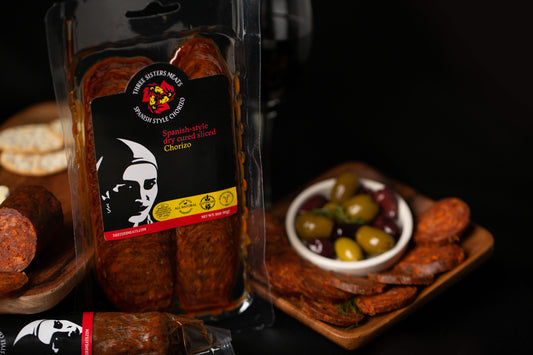 Bulk Chorizo:
Wholesale Chorizo Links & Sliced Chorizo
Get bulk chorizo links and slices delivered straight to your kitchen from 3 Sisters Meats — Premiere, All-natural, Dry-Cured Chorizo. Wholesale Chorizo for stores, restaurants, and creative meats industries.
Order Wholesale Chorizo Online
We offer 2 SKUs - a 6oz Dry-Cured Link and a 3oz Sliced Chorizo Package. These two products are the foundation of our company.
Wholesale prices start at $5.75 per link and $3.85 per sliced package - $70 per link case and $56 per sliced case.
For larger orders:
• A 1,000-pound dry weight order will produce approximately 2,600 6oz units.
• A 1,000-pound dry weight order will produce approximately 5,300 3oz units.
Wholesale and Bulk Chorizo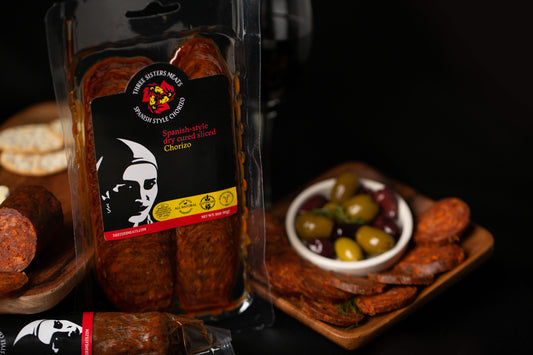 Authentic Spanish Chorizo Recipe
Three Sisters Chorizo is the most authentic recipe on the market.
Made with just pork and 9 ingredients, our recipe comes from the hills of León and has been passed down for generations. This is more than just a recipe for chorizo, it is centuries of tradition and culture that have sustained families like through the cold Northern winters and long days of summer harvest.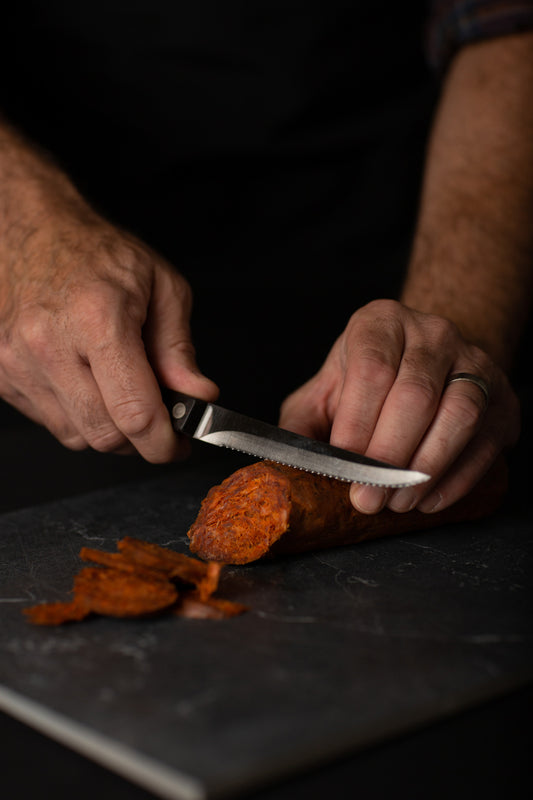 Chorizo has been made in Spain for hundreds of years with a variety of different recipes, all of which have one main commonality - pimentón, the fiery red pepper from the province of Extremadura that gives Spanish chorizo its distinctive color, smell and most importantly, taste.
Shop all
UPHOLDING THE HIGHEST FOOD STANDARDS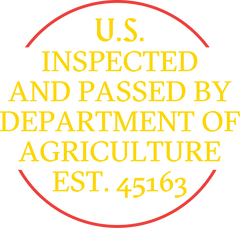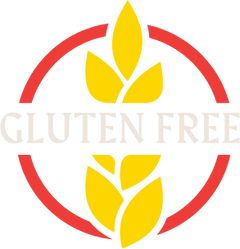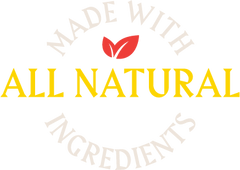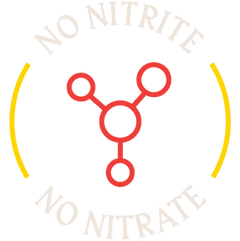 Chorizo Made with All Natural Ingredients
Our goal has been to provide authentic, all-natural, clean-label chorizo, with no artificial flavors, colors, preservatives nor added sugar. Using just pork and nine ingredients you can pronounce, we're proud of our recipe.
Gluten Free Chorizo
This is a chorizo that is created from a centuries-old recipe directly rooted in the ancestral home of chorizo - León, Spain. We want that heritage to be accessible to every chorizo lover.
No Nitrate and No Nitrite
Given both the popularity and demand for high-quality artisanal charcuterie, we make our chorizo without preservatives, and authentic to the dry-cured process, perfect for the creative meats market.
MADE WITH INGREDIENTS CUSTOMERS KNOW AND LOVE