Include Spanish Style, Dry-cured Chorizo links. Made with traditional Spanish recipes and simple ingredients such as pork plus nine spices you can pronounce, this bright red spicy meat makes the perfect addition to any charcuterie board.
Order Bulk Chorizo Cases for Charcuterie Online
We offer 2 SKUs - a 6oz Dry-Cured Link and a 3oz Sliced Chorizo Package. These two products are the foundation of our company.
Wholesale prices start at $5.75 per link and $3.85 per sliced package - $70 per link case and $56 per sliced case.
Wholesale and Bulk Chorizo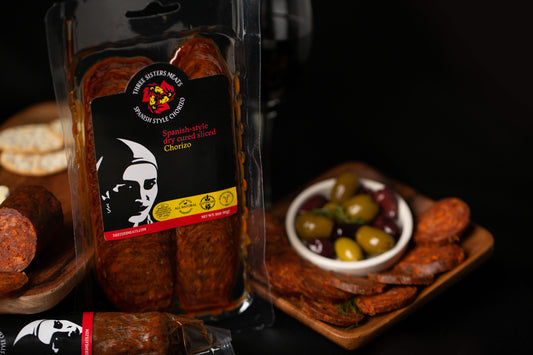 Authentic Spanish Chorizo Recipe
Perfect Artisan Chorizo Meat to Spice up Any Charcuterie Board
Made with just pork and 9 ingredients, our recipe comes from the hills of León and has been passed down for generations. This is more than just a recipe for chorizo, it is centuries of tradition and culture. Add this chorizo to your next charcuterie party platter.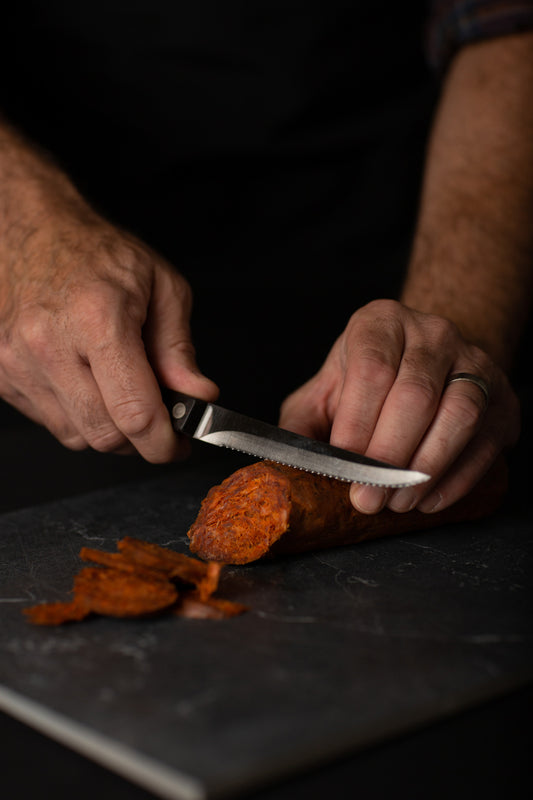 Chorizo has been made in Spain for hundreds of years with a variety of different recipes, all of which have one main commonality - pimentón, the fiery red pepper from the province of Extremadura that gives Spanish chorizo its distinctive color, smell and most importantly, taste.
Shop all
Chorizo Made with All Natural Ingredients
Impress your charcuterie clients with authentic, all-natural, clean-label chorizo, with no artificial flavors, colors, preservatives nor added sugar. Using just pork and nine ingredients you can pronounce, we're proud of our recipe.
Gluten Free Chorizo
This is a chorizo that is created from a centuries-old recipe directly rooted in the ancestral home of chorizo - León, Spain. We want that heritage to be accessible to every chorizo lover.
No Nitrate and No Nitrite
Given both the popularity and demand for high-quality artisanal charcuterie, we make our chorizo without preservatives, and authentic to the dry-cured process, perfect for the creative meats market.